Over a half day period, learners will leave with a renewed confidence having had the opportunity to practice essential first aid procedures, including: managing an unresponsive casualty, recovery position, CPR, choking and more.
First Aid at Work Annual Refresher Course Content?
CPR and safe use of an AED
Unconscious casualty
Choking casualty
Catastrophic bleeding (optional additional instruction)
Intended Audience
The Qualsafe Level 3 Award in First Aid at Work Annual Refresher (RQF) qualification is specifically designed to allow qualified first aiders to update their first aid skills yearly, until requalification training is required.
Further Qualifications
First Aid Requirements Calculator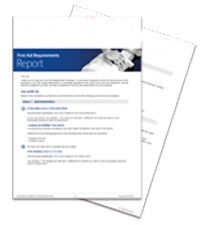 Having the correct first aid provision in your workplace is not only a legal requirement, it is incredibly important for the safety of you and your employees.
However, we know that it can be difficult to determine exactly how many first aiders you need and what type of training they require. That's why we're delighted to introduce our First Aid Requirements Calculator. Click on the image to the right to be taken to our Requirements Calculator.
Designed to be quick and easy to use, this online assessment tool uses the recently updated HSE regulations to accurately calculate the cover you need in your workplace. Simply input a few details about your workplace and the calculator will create a clear, printable report of your organisation's requirements.