Emergency Paediatric First Aid at Work Course Content?
Intended Audience
The Qualsafe Level 3 Award in Emergency Paediatric First Aid (RQF) qualification has been designed in-line with the current Early Years Foundation Stage (EYFS) requirements and is ideal for:
Those who have gained a level 2 or 3 childcare qualification and have entered into an early years setting and wish to be included in the staff to child ratios to comply with the EYFS requirements.
Anyone who cares for infants and children, such as parents, guardians, grandparents or those who have an involvement with infants and children, and wants to learn key paediatric first aid skills.
Newly qualified entrants to an early years setting who have completed a level 2 and/or level 3 qualification on or after 30th June 2016, must also have either a full Paediatric First Aid or an Emergency Paediatric First Aid certificate within three months of starting work.
Further Qualifications
First Aid Requirements Calculator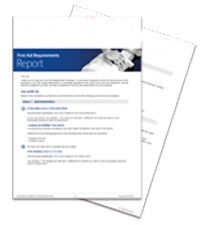 Having the correct first aid provision in your workplace is not only a legal requirement, it is incredibly important for the safety of you and your employees.
However, we know that it can be difficult to determine exactly how many first aiders you need and what type of training they require. That's why we're delighted to introduce our First Aid Requirements Calculator. Click on the image to the right to be taken to our Requirements Calculator.
Designed to be quick and easy to use, this online assessment tool uses the recently updated HSE regulations to accurately calculate the cover you need in your workplace. Simply input a few details about your workplace and the calculator will create a clear, printable report of your organisation's requirements.