The QA Level 2 Award in Activity First Aid (RQF) is a regulated and nationally recognised qualification designed for those who have a responsibility to provide first aid in outdoor and activity based environments.
Successful candidates will gain the knowledge and skills needed to treat a range of conditions that could occur during any form of activity, from life threatening illnesses to minor injuries.
Activity First Aid at Work Course Content?
The role and responsibilities of a first aider
Assessing an incident
Managing an unresponsive casualty
CPR and AED use
Recovery Position
Heart Attack
Stroke
Head, neck and back injuries
Chest and abdominal injuries
Fractures
External bleeding
Optional - Catastrophic bleeding
Shock
Burns and scald
Choking
Poisoning
Anaphylaxis
Asthma
Diabetes
Epilepsy and seizures
Treatment for hot and cold temperatures
Minor injuries
Sprains, strains and dislocations
Eye injuries
Intended Audience
This qualification is for people who have a specific interest or responsibility in voluntary and community
activities such as sports.
Further Qualifications
First Aid Requirements Calculator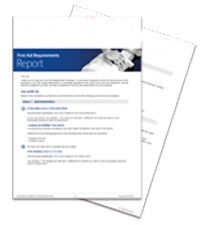 Having the correct first aid provision in your workplace is not only a legal requirement, it is incredibly important for the safety of you and your employees.
However, we know that it can be difficult to determine exactly how many first aiders you need and what type of training they require. That's why we're delighted to introduce our First Aid Requirements Calculator. Click on the image to the right to be taken to our Requirements Calculator.
Designed to be quick and easy to use, this online assessment tool uses the recently updated HSE regulations to accurately calculate the cover you need in your workplace. Simply input a few details about your workplace and the calculator will create a clear, printable report of your organisation's requirements.